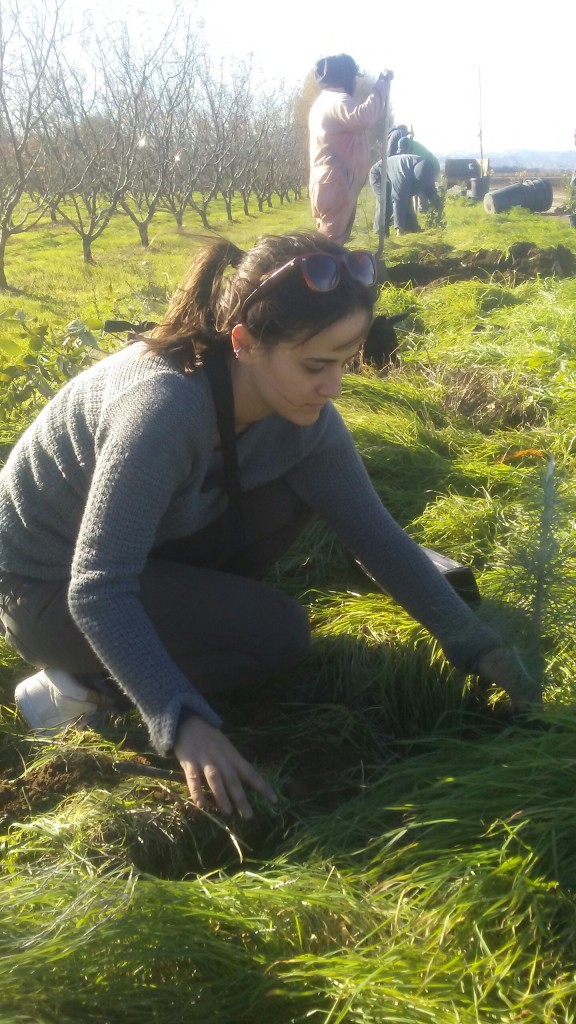 Okay folks, this will be our last post about conservation projects on the farm…we're just so excited about these efforts!  Our last conservation project this year was to plant a hedgerow of trees and shrubs, in conjunction with our partnership with the National Resource Conservation Society (NRCS).  Among other things, the hedgerow is intended to reduce erosion, provide habitat, and store carbon.  Just last week we finished this project, planting an 800 foot hedgerow, along the edge of our new peach orchard.  I believe that once filled in, this hedgerow is going to be beautiful, full of flowering plants and trees.
The hardest part of this project was deciding what trees and shrubs to plant.  Our only guidelines provided by NRCS was that we needed to plant California natives.  The California Native Plant Society has found that California is home to 6,300 native plants, so the readings lists were long.  Next we thought about what characteristics were were looking for.  Our chosen species needed to be heat tolerant because they'd be living in Brentwood.  We also wanted them to be vigorous in growth, so that our hedgerow would establish quickly.  Furthermore, these species needed to provide habitat and food for wildlife.  Simplified, this meant food in the form of pollen and berries, and habitat in terms of protection and places to nest.  I felt that since all of the trees at Frog Hollow are deciduous, we should find evergreen trees that will be foliated, when the orchards are not.  So now our work was cut out for us, sourcing California natives that provided food, shelter, heat tolerance and vigorous growth habits.  Luckily we were planting a mix of species, so particular plants could fill each need.   Once the plant species were chosen, we purchased most of our plants from a wonderful plant nursery called Cornflower Farms.  They grow all of their own stock and sell high quality plants.
For evergreen, protection providing trees, we chose California Bay, Catalina Cherry and Grey Pine.  The Catalina Cherry produces berries that attract birds, while the Grey Pine will grow tall and serve as a perch for birds of prey.  The California Bay is evergreen and displays robust a growth habit. We also planted a variety of shrubs. We chose Brandegee's Sage, Bush Anemone, St. Catherine's Lace and Wild Rose to provide a long source of nectar for native pollinators, while we planted manzanita for it's berries, which the birds love.
---
Holiday Farm Closures:
Please note the the Farm will be closed on Monday, 12/26 and Monday, 1/7
Deliveries Scheduled for Monday, 12/26 will be delivered on Tuesday 12/27 and
Deliveries Scheduled for Monday 1/2 will be delivered on Tuesday, 1/3.