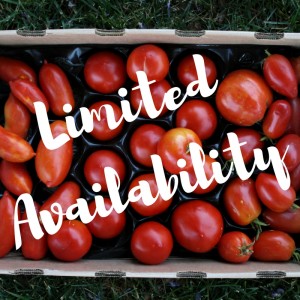 Late summer means tomatoes and we're excited to celebrate the season at Frog Hollow Farm so we thought we'd give you a peak into how and why we grow tomatoes!
Did you know that tomatoes are native to the Americas and was first used as a food in Mexico? With such delicious flavor, its easy to understand how they quickly spread throughout the world from colonial Spain. It's no coincidence that we grow tomatoes at Frog Hollow Farm – tomatoes love our mineral rich soil (they are heavy feeders) and the heat that helps make our fruit so sweet! Tomatoes are wonderful crop for our farm because they work with the same watering schedule as our trees. Just like our fruit, we grow tomatoes varieties for flavor, not productivity, and pick them at the peak of ripeness.
We start with organic seeds in our greenhouse and once the plants are big enough we get them used to the outside by letting them "harden off" outside before being planted. Next they are hand planted our own compost on our 2 acre tomato plot which we rotate each year to give the soil time to recover. 16 rows of 100 plants that will provide enough fruit for our CSA, café and farm kitchen. This is the first year
we have used our vermicompost on the tomatoes and we're getting great results! There is a lot of patience and trellising before harvest but it is worth the wait for these beauties.
We are growing more tomatoes this year than ever before to keep up with the demand of our customers and our own kitchen. We have planted over 20 varieties including some of our favorites from years past like Amish paste, roma, green zebras and more of our favorites. We have also added new varieties including Orange Valencia, Red Zebras and Ruby Pink Germans. Farmer Kristen's favorite variety is the Japanese Black Trifele which is a medium sized pear-shaped tomato with great flavor. Farmer Kristin and her team are already harvesting the first of the red tomatoes so be sure to check out our online store to order some of our limited stock of Classic Red Tomatoes. You can also find our farm made ketchup and, coming soon, Frog Hollow Farm Marinara.
Full harvest and availability of Classic Reds and Rainbow Mixed boxes are expected in the next few weeks and then peppers shortly after that. You can order them as needed or set up a reoccurring order for the duration of the season. We will be sure to let you know as soon as harvest is in full swing!