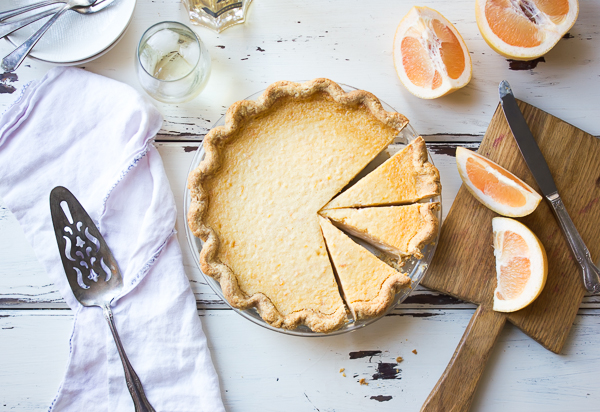 Thanks to our friend and blogger Alanna Taylor-Tobin, The Bojon Gourmet for this recipe.  Be sure to check out her beautiful, seasonal and delicious blog at http://bojongourmet.com.
Ingredients
1 par-baked 9″ pie shell, hot (optionally gluten-free)
3 tablespoons sweet white rice flour (or all-purpose wheat flour if gluten-free isn't an issue)
3/4 cup organic blonde cane sugar
1/4 teaspoon salt
3 large eggs
4 tablespoons melted unsalted butter
1 cup strained ruby grapefruit juice
4 tablespoons blood orange juice (optional, for color – otherwise, 4 more tablespoons grapefruit juice)
1 cup heavy cream
4 tablespoons St. Germain Elderflower Liqueur (or orange liqueur, or an additional 4 tablespoons sugar)
Preparation
Position a rack in the middle of the oven and preheat to 350ºF.
In a large bowl, whisk together the flour, sugar, and salt. Whisk in the eggs one at a time, whisking until combined after each addition. Whisk in the melted butter, then the grapefruit and blood orange juices, and finally the heavy cream and St. Germain liqueur. Strain the mixture into a large measuring pitcher or bowl, and whisk in the grapefruit zest.
Pour the custard into the hot pie shell set on a rimmed baking sheet. Carefully transfer to the oven and bake until the sides are slightly puffed and the center is quite wobbly but not watery, about 35-45 minutes. Be careful not to overbake, or the filling will separate and become grainy.
Remove the pie from the oven and cool completely, 2-3 hours. (If the filling is too soft to slice, chill the pie 1-2 hours.) The pie will keep at room temperature for one day, or refrigerated for up to three days, though it is best on the day of baking when the crust is crisp.
**** visit http://bojongourmet.com for a gluten-free pie crust recipe to accompany this filling.