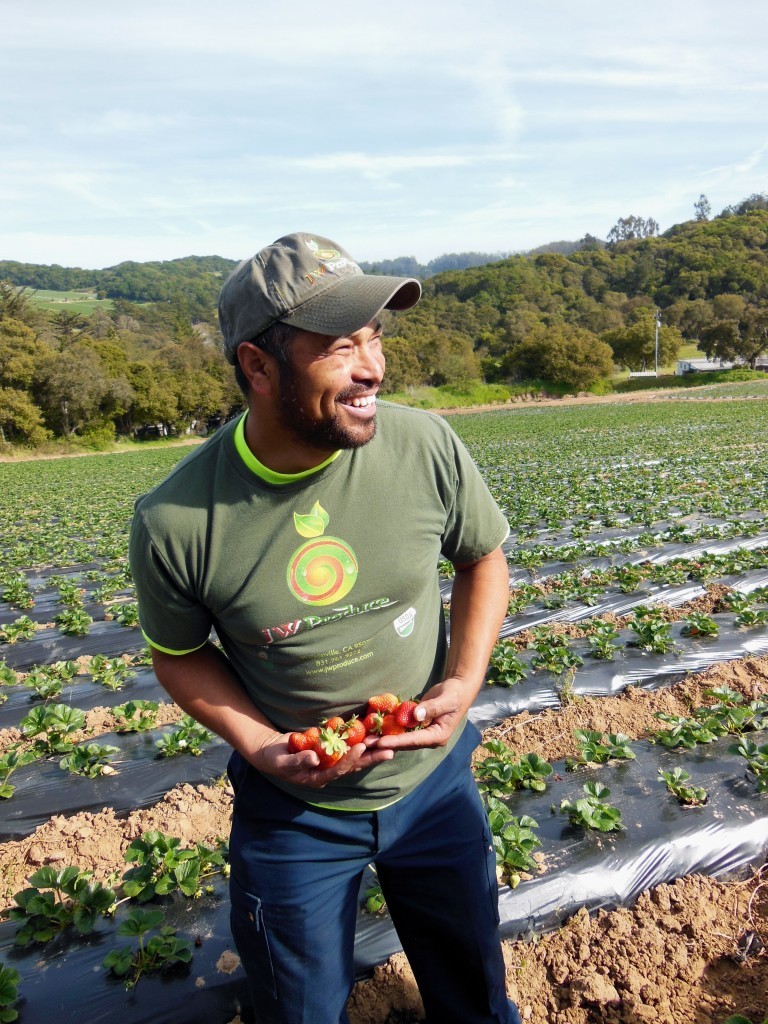 When I asked Estaban how long he'd been farming, his reply was "all my life". His father came to the US from Jalisco, Mexico. In Mexico his father worked for Riverside Farm which grew produce for import to the United States. When his father came to the U.S., he was working in Texas before he made his way to California to work for Driscoll's berry farm. His Dad wasn't happy working for Driscoll's but learned a lot about berry production. After leaving Driscoll's, Estaban, his father and his brother Gabriel all went on to work for Dale Coke of Coke's farm, where they learned organic production. Estaban spent 5 years with Coke Farm before he went onto to work with Happy Boy Farm in Watsonville. During this time the family saved enough money to lease a three acre parcel in San Miguel on which they planted strawberries.
When the Martinez family started their farm, Estaban was already working two jobs – Happy Boy Farm during the days and Cruz Company at nights. Estaban would leave his job at Cruz Company and then start making sales calls for his family's farm at 4 am. Their business grew and they acquired an additional 12 acres so they had enough land to rotate their crops.
The Martinez farm was a family affair. With 10 children, everyone played a role from deliveries, to irrigation, sales, harvesting, packing, and weeding. Estaban remembers this time very fondly because of the close knit nature of their family and the operation.
In 2005 Estaban's father decided to retire after working over 60 years in agriculture. In 2007 Estaban decided to forge out on his own and started JW Farms in Watsonville on 16 acres. JW Farms has been organic since the get go. He tells me that his wife was busy weeding while 7 months pregnant with one of their 5 children and he didn't want her anywhere near pesticides. His family eats everything they grow and he is proud to be able to offer chemical free food to his family and his customers.
Today with 100 acres of fruits and vegetables, chickens, goats, rabbits, and 5 children, Estaban and his wife are super busy. But he says they truly enjoy every minute of it. He loves being able to feed his family from the land and is so thankful for the strong bond that has been created with his children through their family business.