Contra Costa County has a rich history of pear cultivation. "This blue ribbon recipe comes from 82 year-old Jean Podell who won Moraga, California's pear recipe contest." via The Splendid Table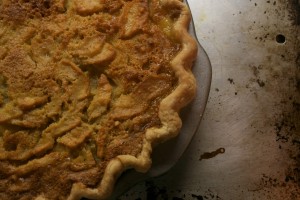 INGREDIENTS:
1 unbaked prepared pie shell for open-face pie, or use 2 shells for a two-crust pie
5 to 6 large pears to fill pie shell, peeled, cored, and sliced
3/4 cup sugar
1/4 cup butter, melted and cooled
4 tablespoons flour
2 eggs
1 teaspoon vanilla
METHOD:
Preheat the oven to 375  degrees.
Fill the pie shell with the pear slices. For an open-face pie, arrange the slices in circular spirals.
In a small bowl, beat together the sugar, butter, flour and eggs. Pour over the pears.
Place the pie on a cookie sheet and bake for 15 minutes. Reduce the oven temperature to 350 and bake 1 hour. Cover loosely with foil to prevent over browning during the last half hour of cooking time.
Serve warm.