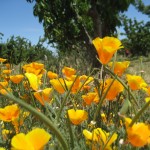 Sarah, Jeff, Karen, Karina and I just went for a walk through the orchards to check out the new variety of peaches that are beating our cherries off the tree.
In the northern part of the orchard we saw the apricot trees which had been devastated by the rains. One tree had only one piece of fruit surviving on it, but a nearby tree had a small cluster surviving on a branch. Even if the trees aren't full of beautiful golden fruit, the California poppies we've planted are thriving along the lane.
Bordering the barren apricot trees are some rows of our cherry trees. They're heavy with fruit, most of them a bright fire engine red. If we're lucky the rain won't hit when they're ripe and we'll have a bigger crop of cherries coming in than we had last year.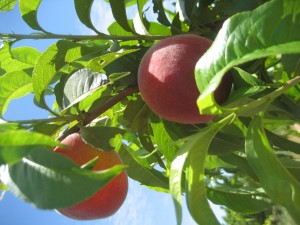 We moved on to the peaches that Farmer Al talked about in the newsletter this week. He described the Super Z as oblong so Sarah and I were expecting something like a roma tomato or a donut peach with an exaggerated shape. They're definitely smaller than other varieties and slightly elongated. They're beautifully blushed and fragrant. Looking at the fruit on the tree, picking on Friday might not be ideal but with the heavy threat of rain on the weekend, it's the best we can plan for right now.
We found one of the more ripe peaches fallen beneath a tree and gave it a taste. I hadn't realised quite how much I'd missed that unique peach flavor. The one we tried was not as sweet as some of the later varieties I grew accustomed to, but it was still a peach. I'm excited to see them picked and in the boxes. Peaches before cherries, I still can't get over the notion!