In This Week's Box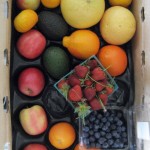 [box_list]
Hass avocados, Valley Center, CA
Blueberries, Valley Center, CA
Strawberries, Lodi, CA
Pink Lady apples, Cuyama, CA
Navel oranges, Lindsay, CA
Minneola tangelo, Oceanside, CA
Golden Nugget tangerines, Oceanside, CA
Grapefruit, Corona, CA
[/box_list]
[print_this]
From Farmer Al
Peaches soon!
Dear CSA members,
Next week we'll be picking the first stone fruit of 2011, a new variety of peach called "Super Z". The "Z" is for Zaiger of Floyd Zaiger Genetics in Modesto, who painstakingly work on crossbreeding plants to produce new varieties. The "Super Z" are small oblong shaped little peaches and delicious! Kids will love them.
Last week we planted just over 800 heirloom tomato plants, some with names that resound like echoes of Tolkein's The Hobbit: Black Giant, Brandywine, Big Beef, Williams Striped, Carbon…. We're very hopeful of this new addition to our exciting mix of CSA fruit and we're hoping you'll all dig out your recipe books for salsas, soups, sauces, and other savory ideas for these amazingly delicious "fruits of the vine"! The first will be ready in late July.
We have mentioned add-ons and Jeff and I met recently with nearby Connolly Ranch to arrange for grass-fed beef. Shelly's Farm here in Brentwood will be providing us with eggs as soon as her hens are producing more. We'll post what's new on the website.

---
Event: Peaches and Tango
On Saturday, July 23rd, Frog Hollow Farm is hosting a very special event–a benefit dinner for Alice Waters' The Edible Schoolyard. The evening's theme is "Peaches and Tango: A Dinner in the Orchard".

Your meal will be prepared by Chef Richard Blais, recent winner of Bravo Network's Top Chef All-Stars and will celebrate food grown by our local farmers, including everyone's favorite farmer, Farmer Al.
This memorable night at Frog Hollow Farm honors our land, our food, our peaches, and Tango! Performing live with their dancers, is Trio Garufa who are considered the most versatile contemporary interpreters of Argentine Tango. Sip wine by local vintners amongst our living, producing trees, and much, much more.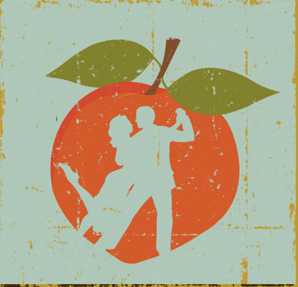 This evening is designed around a great cause–The Edible Schoolyard and The Chez Panisse Foundation–whose mission envisions a school curriculum and school lunch program where growing, cooking, and sharing food at the table gives students the knowledge and values to build a humane and sustainable future.
We're opening ticket purchases to our CSA members and VIP guests before promoting this special event to our customers and the public. Tickets for this July 23rd fundraiser are $450 per person and can be purchased by calling Jeff directly at (925) 634-2845 ext 203. Later this week, we will open our ticket sales to the public and we expect this to sell out quickly. If you're interested, please give us a call, we would be honored and thrilled to see you.
[/print_this]