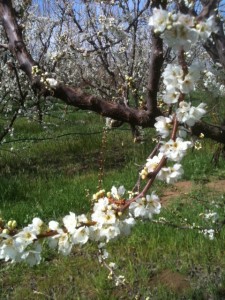 In This Week's Box
[box_list]
Navel Oranges, Fuerte & Hass Avocados, Olsen Organic Farm, Lindsay, CA
Kiwis, Chiechi Farms, Gridley, CA
Pink Lady Apples, Cuyama, New Cuyama, CA
Grapefruit, ECO Farms, Temecula, CA
[/box_list]
Greetings from Frog Hollow Farm,
Today is a little damp, warm, and quiet here on the farm. Farmer Al is on a much needed vacation, so I'm writing the newsletter. This week finds us with only 5 weeks left in the CSA! This is a great time to refer friends and neighbors who have been curious about "that box of fruit you get" each week. The price will be around $100 to join for 4 weeks if they start next week!
Just A reminder that we will be on a one month long hiatus starting April 1st, and will resume the CSA full speed ahead the First week in May. Everyone will have to renew since we're starting a new season. Your account will not automatically roll over into Spring/Summer unless you let us know you want to continue. I'll help sort out any credits or holds you may have had in the Fall/Winter and apply those to your Spring/Summer account.
On the back of this week's newsletter, you'll find 2 recipes' from one of our members, Chef Andrea Boje. She is a chef working in the South Bay who creatively comes up with all sorts of ways to use Frog Hollow Fruit. You can check out her website at theholisticchef.com I've been enjoying orange juice, but I do need some variety, so the cabbage recipes is a welcome change to my repertoire!
Organically Yours,
Melissa
Andrea's CSA Guacamole
2 to 3 avocados, halved, seed removed and peeled
2 green onions, thinly sliced, both the white and half of the green parts
½  ripe tomato, seeds removed, chopped small
juice from ½ a lemon
½ tsp salt
dash garlic powder
freshly ground black pepper
Directions
Place avocado halves on a large cutting board.  Chop avocado into small chunks and place in a medium bowl. Using a fork, gently mash the avocado until about half of it is mashed, but some large chunks still remain.  Add the green onion, tomato, half the lemon juice, salt, garlic powder and black pepper. Using a rubber spatula, mix all the ingredients together.
Taste for seasonings and add a little more salt and/or lemon juice if needed.  Put guacamole in a smaller serving bowl and place a piece of saran wrap directly onto the surface. This keeps air from getting to the avocado which causes it to brown. Put in refrigerator for 1 hour to allow the flavors to blend and then serve with your favorite tortilla chips.
Pressed Cabbage Salad
1/2 Medium Green Cabbage
1/2 Medium purple cabbage
4 cups orange juice
1 cup lemon juice
1/2 cup umboshi vinegar, or apple cider vinegar
2 tablespoons salt
2 tablespoons toasted sesame seeds
Procedure: Thinly slice green cabbage and place in large bowl. Pour 2 cups orange juice, 1/2 cup lemon juice, 1/4 cup vinegar, and 1 tbsp salt into the bowl, mix with hands, and set aside. Make sure all the cabbage is immersed in the liquid. Let sit for 1 hour or longer, up to 6 hours.
Do the same procedure for the purple cabbage, so the colors don't bleed together, and an attractive presentation is maintained.
Drain vegetables and combine in one bowl. Stir to mix. Sprinkle with toasted sesame seeds and serve.