In This Week's Box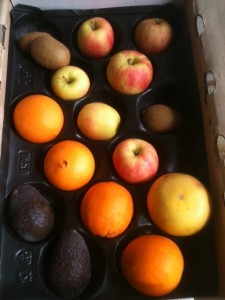 [box_list]
Navel Oranges, Fuerte & Hass Avocados, (one type only will be in your box) Olsen Organic Farm, Lindsay, CA
Kiwis, Chiechi Farms, Gridley, CA
Pink Lady Apples, Cuyama, New Cuyama, CA
Grapefruit, Rucker Homestead, Mecca, CA
[/box_list]
[print_this]

From Farmer Al
Dear CSA Members– We're lovin' this weather so far. With well over 1000 hours of winter chill, yet fairly warm weather during daylight hours, the trees are waking up into almost sudden full bloom. With warm days and no rain or wind, the bees are lovin' it: apricots and plums in Full Bloom, with peaches and nectarines showing about 50% of their pink and scarlet, audacious finery! Only pears, apples, and cherries (Well, OK, and olives, too!) are holding back.
The "tree team" is working hard to stay ahead of the blossoms. Today they'll finish the last of the plums, then work on the few remaining acres of younger peach trees. Pear will be next, and again, we're struggling to get done before full bloom hits (the flowers actually interfere with the pruning process).
The ground team is busy watering by hand all 2000 trees we planted this year. A tractor pulls a 400 gallon tank with watering hoses attached to a pump, enabling them to move rapidly from tree to tree. The 400 gallons of water is diluted with about 60 gallons of compost tea, so we're drenching the root zone of each tree with microbes; fungi, bacteria, amoeba, protozoa, nematodes, etc. The theory is that this enlivened soil biology will help grow bigger, healthier trees, faster!
We'll keep you posted.
Protozoacly Yours,

[/print_this]
Crab Salad with Avocado and Citrus
3/4 Cup Mayonnaise
1/2 Tablespoon Lime or lemon juice
1 tsp chopped fresh tarragon, or to taste
3 tablespoons chopped chives
Freshly ground pepper
1 lb fresh crab meat
3 avocados
3 oranges
1 grapefruit or pomelo
Lettuce or Salad Greens
Whisk Mayo with citrus juices, herbs, and pepper, adjusting to taste. Toss crab meat with mayo. Peel and segment oranges and grapefruit, removing all the membrane between segments. Peel and slice avocados. Line plates with lettuce or salad greens. Fan out the avocado slices, then add a scoop of crab salad at the base of the avocado. Arrange fruit segments around salad. Sprinkle with additional tarragon and chives, if desired.
~~From a Feb. 2010 Happy Child CSA Newsletter~~
Super Green Smoothie
Handful spinach or kale, ( I cut the big middle stem out of the kale before I blend it, and use about a 1/2 bunch of green kale when I make this recipe)
1 whole avocado
1 banana
2 kiwis
1 Cup soy milk, water, milk of your choice
Optional– Yogurt, wheat germ, fish oil with a lemon flavor (I like Barleans'), nut butter or frozen fruits you like, blended in for more nutrients, texture, and goodness.
Mix in the blender!
~~From a Frog Hollow Farm Mail order customer~~