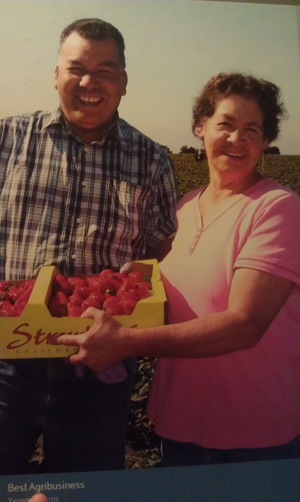 If there ever was an exemplar story of the American Dream, Yerena Farms is one of them. The Yerena family came to the United States in 1968 from Jalisco, Mexico. Poli Yerena, the current patriarch of the family, was 17 years old and worked alongside his father and three of his five siblings picking strawberries for Driscoll Farm.
During the Cesar Chavez movement of the 1970's, Driscoll began giving small plots of land for their pickers to sharecrop. The Yerena family was allotted 2.5 acres and received 45% of the proceeds from their strawberry crop. Poli says that they got a taste of what it was like to be a Patron and decided they wanted to venture out on their own. They saved their money to lease some land to begin their own business. In 1980 they began farming strawberries conventionally at Yerena Farms. They transitioned to organic production in 2004 and now farm 17 acres organically in Watsonville. Poli remembers being scared to transition to organic production. The big chemical companies make their winter circuit through Watsonville every year to market their new products to the strawberry growers. The company representatives told Poli that if he didn't use their products, he wouldn't get a crop to market. In response to a sea change of consumer demand in the Bay Area for organic food, the Yerenas decided not to listen and take the leap of faith to organic production. They've never looked back. In fact, they are always looking ahead.
Poli has four children all of whom are involved in the business. His son Ricardo is 25 and oversees the field operations. His oldest son graduated from Fresno State with a degree in agronomy and manages their soil fertility and pest management strategies. Another son who attended SF's Culinary Academy and worked with Hayes Street Grill in SF for several years, takes all their wholesale orders. He will be starting a prepared food venture this September at the Civic Center Farmers Market, as well. Poli oversees all of the nine Farmers Markets they attend on a weekly basis during the growing season, including the SF Ferry Plaza Farmers Market.
Poli loves farming. He says he never tires of being in the field. Agriculture is just a part of him. He does think of retiring at some point, but not for a while. His father who died two years ago at the age of 97 was working picking berries on their farm until he was 94, so Poli figures he will wait until he is 95 to retire. Farmer Al can attest that one the happiest places for a farmer to be is working on his land, so we hope that Poli will be an active part of Yerena Farms for at least another 30 years.
We are very pleased to be including Yerena Farms delicious strawberries in our CSA boxes this summer and we certainly hope you've been enjoying them!