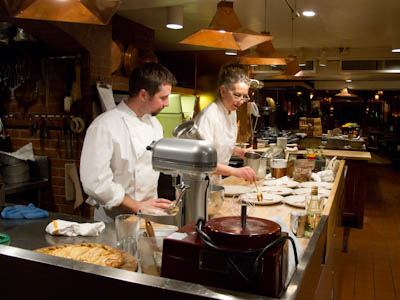 I sat down with veteran pastry chef, Mary Jo Thoresen of Chez Panisse, to hear about what moves her in work with food, why she's called Chez Panisse home for so long and why she's chosen Frog Hollow Fruit for 25 years.
Mary Jo has made a name for herself as a pastry chef and restaurateur. She started her career in food in 1981 staging in Chez Panisse's pastry kitchen. After 3 months, she joined the staff. 34 years later, she's run several pastry kitchens and launched her own successful restaurant. After deciding to complete her nine year venture with restaurant Jojo in Oakland, She's returned home to Chez Panisse. Throughout much of this time Mary Jo has been a great friend to Frog Hollow.
Mary Jo first discovered Frog Hollow Farm through her husband, fellow chef and Chez Panisse Alum, Curt Clingman. Then Head Chef at Oliveto, he was sourcing some peaches and wanted to personally vet the farm. Curt and Mary Jo drove out to Frog Hollow to meet Farmer Al. She remembers first seeing Al open the door and walk out of the trailer he lived on in the middle of the farm. They spent the day touring the farm with Al, tasting his fruit and listening to his visionary musings. They were hooked.
Since then, Mary Jo has consistently relied on Frog Hollow's summer fruit. She calls our Flavor King Pluots "the star of the summer." Beyond the consistently superb flavor of our fruit, she appreciates how carefully handled and clearly loved it is. The beauty of the produce she works with in Chez Panisse's kitchen "constantly moves her." It's one of the things that keeps her passion for cooking stoked. She says that one of the best parts of working at Chez Panisse is the premium placed on quality ingredients and the "wonderful freedom" that affords her and other Chez chefs. If she wants to use top notch fruit to make a sorbet or galette she can. In fact, summer galettes are her favorite use of Frog Hollow's Flavor Kings.
Mary Jo and I talked a lot about her history as a chef and how Chez Panisse stood out from other experiences. "People here are like-minded, polite and happy to help each other" she says. When I asked her why, she said that they share a mutual goal to create truly inspiring food and knew that helping eachother succeed was the best way to get there. "In the kitchen you can be a jerk or a hero", she says, "and you get to choose which one." She told a story of one of her first interactions with Mentor and famous Chez Pastry Chef,  Lindsay Shere. The two women were baking a series of chocolate cakes. Upon placing the cakes in the oven, Mary Jo was mortified to discover a measuring cup of cake flour intended for the cakes still sitting on the counter. Anxious as she told Lindsay, she was amazed as Lindsay calmly helped her pull the cakes out the oven, sift the flour in the cakes, and became Mary Jo's hero. This experience really speaks for how a supportive and solutions oriented culture has kept this legendary restaurant so successful in it's 44 year reign.
After many years of cooking and baking, I wondered what kept MaryJo in the kitchen. She said that she's constantly inspired by the simplest things. Indeed the beauty of what she does is that from the "youngest and newest cooks to the oldest and most season, there is always something to learn, if your watching for it." To be a successful chef "you need to get pleasure out of what you do. The difference between something good and great is the attention paid to the details." By plate 89, if you're not enjoying putting together each plate, you're not gonna make it. And what's more you "can tell when the plate comes to you, if the people who made it loved it."
This struck me as the heart of our discussion. What makes Chez Panisse, Frog Hollow Fruit, and Mary Jo's pastry so great? They love what they do, and you can taste the difference.