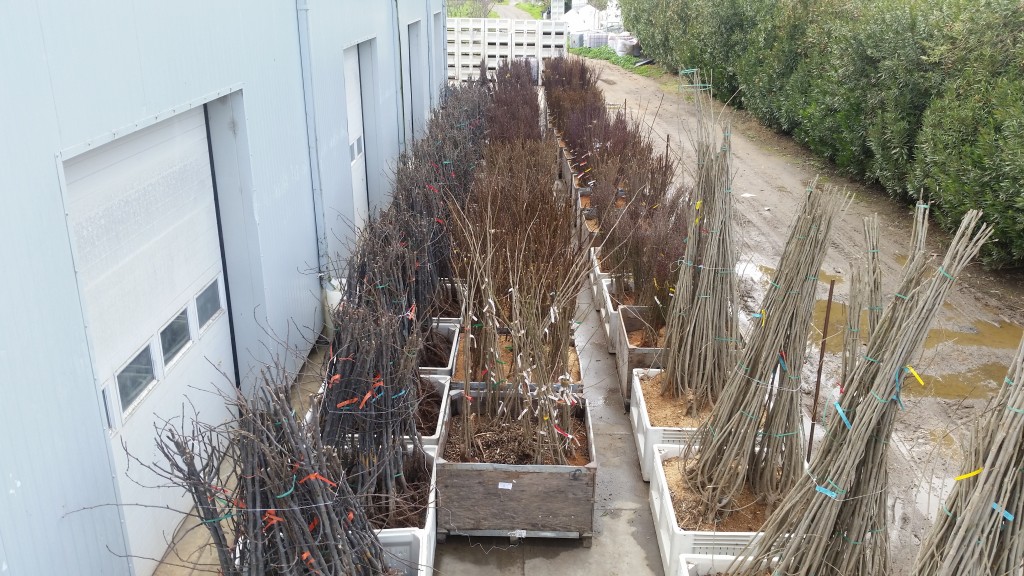 We are slowly but surely building up our fall and winter fruit crops with the goal of providing more Frog Hollow fruit for our CSA year round.  Last year, we were pleased to plant 5 varieties of mandarins and 2 varieties of avocados.  Now, we are moving on to Asian pears.
Asian Pears are not a new crop to Frog Hollow.  We've been growing them since 1985.  Though we love them, we haven't paid much attention to them. Out of 140 acres in production, only one acre is devoted to Asian pears. This winter we are going to change that. Though stone fruit will still be the predominant focus of our orchard, we want to begin highlighting Asian pears as an important part of the Frog Hollow family.  As soon as the ground dries out enough to work, we'll be planting over 400 trees and tripling our acreage of Asian pears.
Over the years, we've tried several different varieties of Asian Pears. We've found two varieties to grow very well here in Brentwood and to have outstanding flavor.  These are the Hosui and the Shinko. For those who've tried them, you'll know that both varieties are wonderfully crunchy and juicy with a mouthfeel that many people liken to an apple. The Hosui's have notes of caramel with a lemon finish while the Shinko's have flavor notes reminiscent of tropical fruits.
The Hosuis ripen in August alongside our Cal Reds while the Shinko's ripen in late September and into October.  Both of these varieties, like apples, store exceedingly well with very little flavor or texture lost in storage.  When so few fruits are available in the winter months, we welcome fruits that store well.
Luckily, Asian pears mature faster than citrus and we can expect to see our first harvest from our new trees in 3 years.  We know it's a long time to wait, but luckily we do have a few fruiting trees to tie us over until that first harvest begins.