This soup can be served chilled or warm (use chives for garnish if serving cold)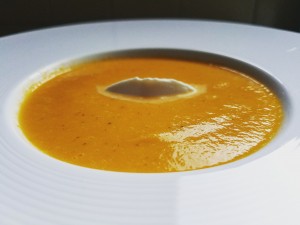 from Mario Hernandez of The Order of The Fat Tongue
Ingredients:
6 apricots, de-seed and cut into quarter
3 medium sized carrots, skin shave and cut into ¼ inch slices
1 small onion, thinly sliced into half moons
4 1/2 cups of water
1/3 cup of quality olive oil
2 teaspoons of minced ginger
Crème Fraiche for garnish
Instructions:
In a heavy bottomed sauce pan, add salt to taste and sweat the onion in the olive oil over low heat without letting it brown for 30 minutes.
Add the carrots, salt to taste, and 1/2 cup water. Raise the heat slightly, cover the pot tightly and stew the carrots for 10 to 15 minutes, or until tender. Then add another 4 cups water and the quarter apricots, bring to a low simmer and cook an additional 10 minutes uncovered. Allow the pan to cool for ten minutes.
Working in batches, purée the soup in a blender to a very smooth, creamy consistency. Taste the soup and correct for seasoning. If serving warm, garnish with a dollop of Crème Fraiche or, if serving cold, top with drops of olive oil and chopped chives.