Frog Hollow Farm's very own Chef Mario will be demonstrating this recipe at the Spring Stroll next weekend!

Ingredients: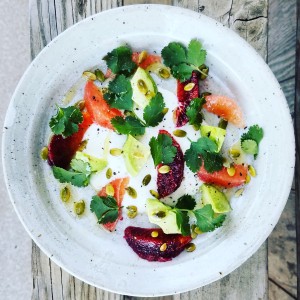 1 medium ruby grapefruit, segmented
1 medium blood orange, segmented
1 medium Hass avocados,
2 tbs. of toasted pepita seeds
Quality olive oil to taste
20 cilantro leaves, for garnish
¼ cup of crème fraiche
Lime juice to taste
Local honey to taste
Kosher salt and freshly black pepper to taste
Method:
Using a sharp knife, cut the skin and all the bitter white pith off the grapefruits. Working over a bowl, cut in between the membranes to release the sections.
In a small mixing bowl, place the crème fraiche and add the honey, lime juice and season to taste
Add a large dollop of the dressing onto the middle of the plate and using a spoon, create a flat circle. Arrange with the blood orange, grapefruit sections, avocado and pepita seeds. Drizzle with olive oil and season with salt and pepper. Garnish with the cilantro leaves and serve.